Ahhh my SHINee babies...off to Japan now,
so we will be seeing less of them.
I have faith in JShawols though!
Anticipating lots of fancams!
How many wonderful moments have we had with Sherlock...,
too many to count. Taemin's long hair....Jongkey antics...MinKey!
I have long known that MinKey is actually the favored pairing in Korea,
JongKey is more International.
No matter...there are lots of both, and more!
I love this SHINeEXOtic's moment, EXO K attempted to leave the stage after SHINee won, but Minho calls them back.
And here Minho trolling Jong....with accomplices Tae and Key!
I adore how close these boys are, tormenting each other while flashing blinding smiles.
How well must they know these routines to still be able to jump right back into such complicated and synchronized choreo?
Here, this video has lots of SHINee moments
120323-120420 the moment in music bank@glamourous91.flv
한달에 민호랑 비범이 같이 보낸 즐거운 행복시간
One of the best moments?
A JongKey moment of course!
Cutest moment?
When Onew discovers he has a noona fan.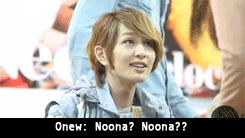 Aigooo!
Truly I just wanna squish him here!
On to other SHINee things!
Like Taemin's last Immortal Song 2 performance Subbed!
[eng] 120421 Taemin, Ecstatic Confession
Published on
Apr 21, 2012
by
jujutaem
translation by jujugal
Another fun Taemin video....cause we all know he loves those trophy's best!
SHINee(샤이니) Taemin(태민) I love Trophy
Published on
Apr 19, 2012
by
EunyulSecret
A fun 'Sherlock' moment during Gag Concert
120422 "Sherlock" featured in 6@6 Conc3r7
Published on
Apr 22, 2012
by
ryokopink
Lets see....what else
Oh! a few pictures of course!
I guess the boys are still going back and forth for last minute schedules
Airport pics
A sad final farewell to the long hair and ponies.
This is where I started screaming......*sigh*
And where it all started
bye bye babies....bye bye
~.~